EXCELLENT CRYSTAL – IMPRESSION TRAYS - PLASDENT
PLASTIC IMPRESSION TRAYS
Description:

* Ideal for use with color-changing materials.
* Rounded, anatomical edges ensure patient comfort.
* Back retention rim helps reduce gagging.
* Occlusal ridges maintain space to eliminate bite-through.
* Non-slip handle with finger rest is marked for easy size identification.
* IMPRESSION TRAYS.
* # 9 Anterior.
* Perforated.
* Clear PLASTIC.
Color: CRYSTAL Clear.
Quantity: 12/Pk.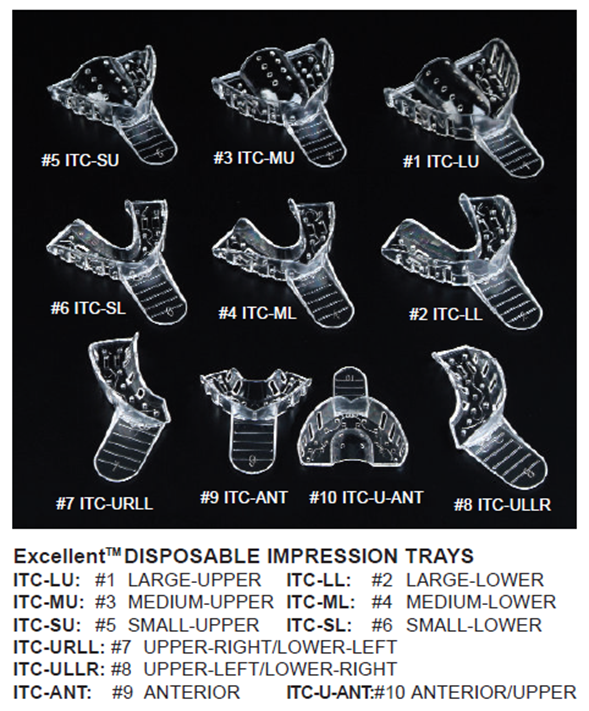 PLASDENT EXCELLENT IMPRESSION TRAYS, are designed to providethe maximum retention with the  impressionmaterial.
EXCELLENT IMPRESSION TRAYS can be used with alginateor VPS.
Carefully chosen raw material, provides EXCELLENT TRAYS withthe sturdiness you need and at the same time enough flexibility to facilitateyour work.
EXCELLENT IMPRESSION TRAYS come in multi color presentation,CRYSTAL, blue
EXCELLENT IMPRESSION TRAYS purposes :
ORTHO with extra clearance , BITE Registration, Regular disposabloes, Fluoration
PLASDENT EXCELLENT IMPRESSION TRAYS presentation :
12pk  or 48pk