EMS - AIRFlow Prophylaxis MASTER

110v - # FT-229
EMS  AIRFlow prophylaxis Master ( Official distributors )

Description EMS AIRFlow prophy Master

Created for intensive professional use, the AIRFlow Prophylaxis Master features unique ergonomics, high precision, easy maintenance and compliance. This device has been designed with the highest standards of performance, safety, and comfort in mind, specifically built to cater to core treatments of GBT – AIRFlow, PERIOFLOW and PIEZON.

Features EMS AIRFlow prophy Master

Heating System with adjustable water temperature for warm, comfortable treatments that all patients (even cold-sensitive) will accept and enjoy.
Interactive touch panel easily regulates and adjusts the AIRFlow and PIEZON power levels, providing the most customized patient experience.
New state-of-the-art pressurization tower can pressurize and depressurize in seconds using an integrated magnetic connection. Powder chambers are easier than ever to switch out for different treatments with no need to purge the device.
Larger powder chambers increase efficiency during treatment with limited need to stop and add more powder.
Wireless foot pedal with 360º power activation access offers the clinician a more convenient and ergonomic experience, while easily starting and stopping treatment.Completely integrated AIRFlow waterline purge System cleans fluid lines in under a minute for ongoing efficiency.

Scope of delivery AIRFlow prophy Master

 AIRFlow Prophylaxis Master
1 AIRFlow Handpiece
1 AIRFlow PLUS Powder Chamber
1 Clasen UNO Mirror Cannula*
1 AIRFlow CLASSIC Powder Chamber
12 AIRFlow PLUS Powder
1 AIRFlow CLASSIC Comfort Powder
1 PERIOFLOW Handpiece
10 PERIOFLOW Nozzles
1 Nozzle remover
1 PIEZON LED Handpiece
3 PIEZON PS Instrument
6 PIEZON PI Instrument
4 PIEZON Light guides
1 PIEZON 800 ml Bottle
1 NIGHT CLEANER Bottle
1 NIGHT CLEANER Refill
2 CLIP+CLEAN
1 Easyclean
2 Water filter
2 Air filter
1 Maintenance set
1 Wireless BOOST Pedal
1 Biofilm Discloser
1 Fileholder 120
WARRANTY 
Air EMS devices are Guaranteed by EMS-USA for 1 year by default .
2 YEARS WARRANTY ( 1 ADDITIONAAL EXTRA YEAR ) is granted on the AIR FLOW PROPHYLAXIS MASTGER and AIR FLOW ONE with the following conditions : 
- Official Service within the first year of the warranty period of the device.  FREE is you purchase with US Dental DEPOT 
- Must register on EMS website - US Dental DEPOT will take care of this also , but if you desire to do it yourself, here is the link : 
INCLUDES
1 AIRFlow® Max Application
1 PERIOFLOW® Application
1 PIEZON® Application
1 Boost wireless pedal
1 PLUS powder chamber
1 CLASSIC powder chamber
1 PIEZON® bottle (800ml)
1 CLEANER bottle (800ml)
1 AIRFlow® powder CLASSIC 300g
3 AIRFlow® powder PLUS 400g
Supplier Code: FT-229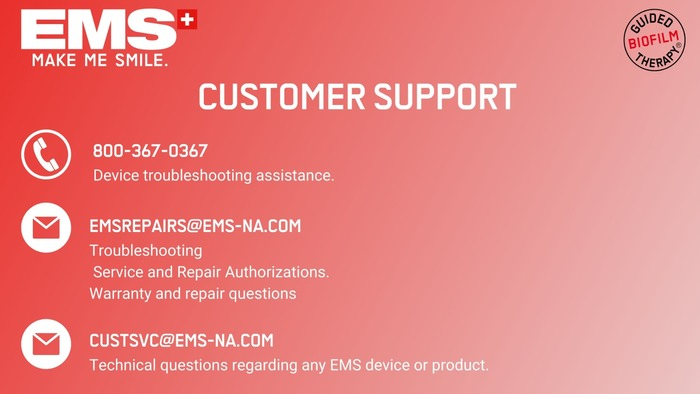 : IF YOU STILL NOT OWN THE AIRFlow PROPHYLAXIS MASTER,
CHECK HERE