BUFFALO Trap-Eze SS Self-Sanitizing Plaster Traps COMPLETE KIT , 3.5 Gallon + HOSES - #SANITRAP1
Full range of Dental Supplies with incredible prices and outstanding customer service...
Please sign in so that we can notify you about a reply
Sellers of this product
Description
BUFFALO - TRAP-EZE Plaster Traps 
Original Disposable Self-Sanitizing  & SS ( Odor Control )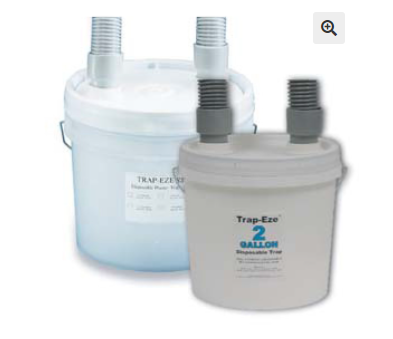 TRAP-EZE Plaster Trapss  New patent-pending odor control system inside the trap designed to last for months Fully automatic dispensing helps assure steady action and long term freshness Unique system covers the sanitizing agent and activates after the trap is in use with a built-in automatic sanitizing system. 
Easy, safe and sanitary method for containing and disposing of sink waste. Patent-pending sanitizer dispenser activates once the trap is in use, and keeps the trap smelling clean and fresh for months. 
Translucent plastic trap container lets you monitor waste level. 
Useful in Dental Offices and Laboratories, Medical Offices, Ceramic Clay and Pottery facilities. Beauty and Hair Salons*(with internal cartridge). Hobby, Craft, and Workshop areas, Industrial, Food Preparation and Jewelry Shops (with internal cartridge).
Features and Benefits TRAP-EZE Plaster Trapss 
Economical trap systems designed to slow water discharge flow rate and allow sediment to settle out of waste water
Fast and easy installation and trap replacement
No permanent Traps to clean or messy liners to replace
TRAP-EZE Plaster Trapss Made in the USA
TRAP-EZE  BT Bottle Trap
The new TRAP-EZE  BT provides a convenient and easy to use bottle-style trap for permanent plumbing into the existing sanitary drain beneath the lab sink. The replaceable bottles feature excellent capacity and are fast and easy to replace.
TRAP-EZE  Cartridge Trap
The new TRAP-EZE  Cartridge Trap, specifically for Salons and Jewelry stores. This trap functions like our other TRAP-EZE  Traps but with the added benefit of catching fine materials (gold) via our Jeweler's version and drain clogging particulates and materials from various salon products and procedures via our Salon version.
Disposable TRAP-EZE 
TRAP-EZE 62100 3 1/2 Gallon TRAP-EZE  Plaster Trapss Complete Kit
TRAP-EZE 62110 5 Gallon TRAP-EZE Plaster Trapss  Complete Kit
TRAP-EZE 62106 3 1/2 Gallon TRAP-EZE  Plaster Trapss Refill (sealed bucket only)
TRAP-EZE 62170 2 Gallon TRAP-EZE  Plaster Trapss Complete Kit (w/ Refill)
TRAP-EZE 62180 2 Gallon TRAP-EZE Plaster Trapss  Refill, 2 Pack (sealed bucket only)
TRAP-EZE 62112 5 Gallon TRAP-EZE Plaster Trapss  Refill (sealed bucket only)
TRAP-EZE 62108 Flexible Hoses Only for TRAP-EZE Plaster Trapss , Set of 2 (18" Overall Length Each) 62100FIT Flexible Adapter Fitting for Sewer Tail Pipe


Disposable TRAP-EZE SS ( ODOR CONTROL) 
SANITRAP1 3 1/2 Gallon TRAP-EZE SS Complete Kit  Complete kit includes sealed trap bucket, 2 hoses, and sewer tail pipe adapter fitting
Sanitrap2 3 1/2 Gallon TRAP-EZE SS Refill (sealed bucket only)
Sanitrap3 5 Gallon TRAP-EZE SS Complete Kit  Complete kit includes sealed trap bucket, 2 hoses, and sewer tail pipe adapter fitting
Sanitrap4 5 Gallon TRAP-EZE SS Refill (sealed bucket only)

GENERAL SPECIFICATIONS OF TRAP-EZE  
Plaster Trapss 

( ORIGINAL and  SS ) 


Requires minimum 9" clearance between bottom of sink tail pipe and top of trap bucket for easy installation 

All TRAP-EZE  Plaster Trapss buckets feature high-strength plastic construction and permanently-sealed lids 

3 1/2 gallon size (12 1/2" dia. x 11" H) ideal for intermediate applications 

2 gallon size (10" dia. x 9 1/2" H) best for smaller offices or small under-sink areas 

5 gallon size (12 1/2" dia. x 14 1/2" H) best for larger offices and labs with high volume collection needs 

Two flexible hoses (1 1/2" ID x 1 3/4" OD x 20" long) conveniently connect trap to sink and sewer tail pipe 

TRAP-EZE  Plaster Trapss Flexible adapter fitting for sewer tail pipe included for improved drain seal 

TRAP-EZE  Plaster Trapss Complete kit includes sealed trap bucket, 2 hoses, and sewer tail pipe adapter fitting



Features
Availability Date:
2022-07-02T12:00+0000
Attachments