ROLAND - 5-Axis Dental MILLING Machine  OPEN BOX / REFURBISHED 
MILLING Units
Specifications:


ROLAND Warranty 

Third year warranty available by ROLAND Dga 
Reliable Dental MILLING Now Comes with Added Efficiency
DGSHAPE by ROLAND takes thirty-years of reliability and innovation and combines it with next-level production and efficiency to meet the needs of today's growing lab businesses.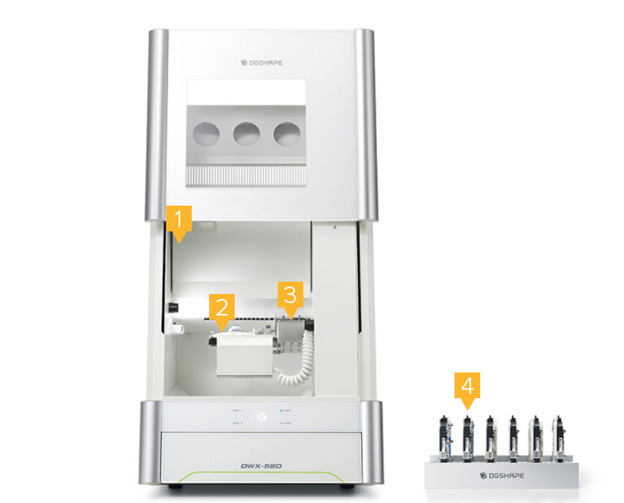 Additional Features
        5-axis MILLING
Ball screw-driven system with 5-axis positioning or simultaneous operation
            Intelligent Tool Changer (ITC)
Knows which tool to automatically swap out when tools have reached their designated lifespan
            Virtual Machine Panel (VPanel)
A user-friendly VPanel enables easy production and device monitoring – including auto calibration function
            Ionizer
Reduce static and dust when working with PMMA
            Clean MILLING Environment
Mill clean with powerfully efficient internal dust collection and an automatic cleaning brush
Air Volume    Air Pressure
Air pressure is automatically adjusted based on the CAM material data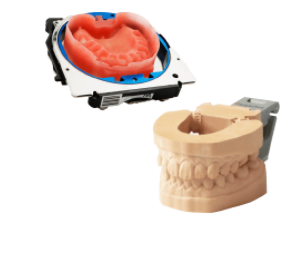 Get More from Your DWX-52D with TRK Kits
Maximize the profit capabilities of your DWX-52DC with Time Reduction Kits (TRK). In just three-easy-steps, you can produce molded gypsum or acrylic based materials for MILLING partial or full-denture bases, and models at a fraction of the material cost of 3D printing or MILLING standard discs.
With a choice of Removable Denture Kit for full dentures and partial dentures and Model Kit for producing accurate models, TRK kits offer you exceptional cost and workflow benefits.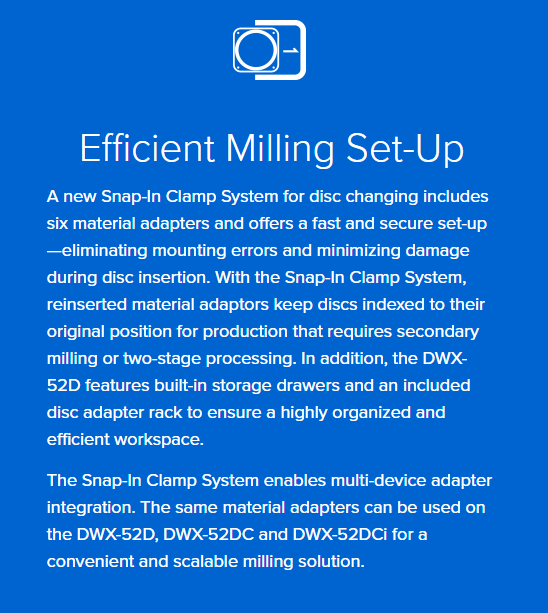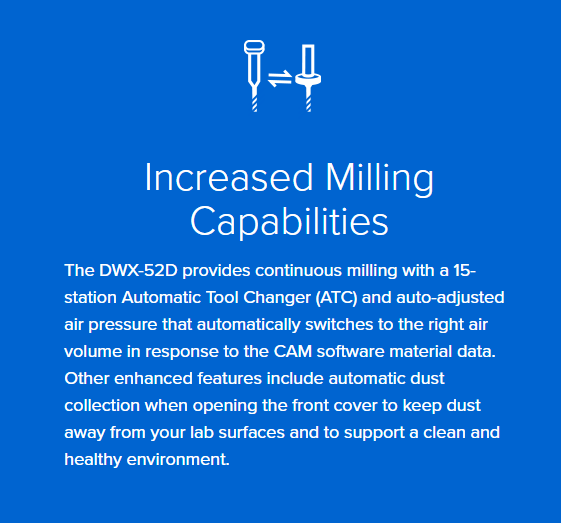 Intelligent Tool Control
A feature of the simplified VPanel operation is an Intelligent Tool Control (ITC) function that instinctively swaps out tools directly from their position when they have reached their user-defined lifespan with a designated "partner tool" without needing to pause production. The ITC has been updated for the DWX-52D to allow for user-defined setup– users can now assign burs in any figuration they want in the Automatic Tool Changer (ATC).
THIS ITEM WILL BE SHIPPED WOOD BOXED ( generally ) AND ON AN INDIVIDUAL PALET - SHIPPING COST WILL INCLUDE PALLET/ TRUCK / INSIDE DELIVERY & LOADING DOCK