COXO Dental Brushless Electric Micro Motor LED Handpiece 1:4.2 Contra Angle NSK
Full range of Dental Supplies with incredible prices and outstanding customer service...
Please sign in so that we can notify you about a reply
Sellers of this product
Description
COXO Dental Brushless Electric Micro Motor LED Handpiece 1:4.2 Contra Angle NSK


Electric Micro Motor Preview:Similar to NSK NLX nano S120
Practitioners use contra-angles and Electric  micromotors just like the use of air turbines.
Combined with a wide range of contra-angles, it covers a speed range of 100 - 200,000 min-1, to make it suitable for any applications
With LED light in the handpiece
Switching to electrics helps you to improve your efficiency, provide better patient care, and increase your confidence in handling complicated cases.
Working with an air-driven turbine products more aerosol than working with a red contra-angle
Easy to use – Easy versatility 
Easy speed and power control 
ISO E type motor
Model for choose:
C PUMA Electric Motor(4 Holes)
C PUMA Electric Motor & CX235C7-3,
CX235C7-3 1:4.2 Surgical handpiece,
Item Description:
C PUMA Electric Motor(4 Holes)
Latest upgraded model, shorter and lighter motor handpiece
Improved Balance of Motor and Instrument
Upgraded micromotor, more powerful and less vibration
Simple Design Just a few button can adjust the porameters you need
The LED technology integrated in the motor lights the treatment site with daylight-quality illumination.
Compact and handy, high torque
The motor can be sterilized.
Power:120w
Selectable speed ratio: 1:1 1:5 16:1
Speed range: 2000rpm- 40000rpm (1:1)   100rpm-2500rpm(16:1)   10000rpm-200000rpm(1:5)
LED maximum:> 10000lux
Torque output: Max. 2.5 N.cm
135℃ autoclaved sterilization(only for micromotor)
Volume: 126mm  Ø 23m
Operation interface:
Reverse button
Memory Program:M1 M2 
Digital value: indicate the current speed
Speed button
Speed light
Rotational speed ratio button
Main unit:
Voltage: AC 100-240V
Out: Max. 120W
CX235C7-3 1:4.2 Surgical Handpiece
Similar with NSK Ti MAX Z45L
Head: 45°Angle Head
Gear Ratio:1:4.2 increasing
Optic Fiber
Chuck type:push button
for: FG Burs φ1.6mm
Water Spray:4 way spray,effectively and quickly cool the needle
Spray:Inner channel
Rotation speed:168,000rpm
for dental Electric motor
ISO E type, fit all ISO E type Electric motor system NSK KAVO W&H ect.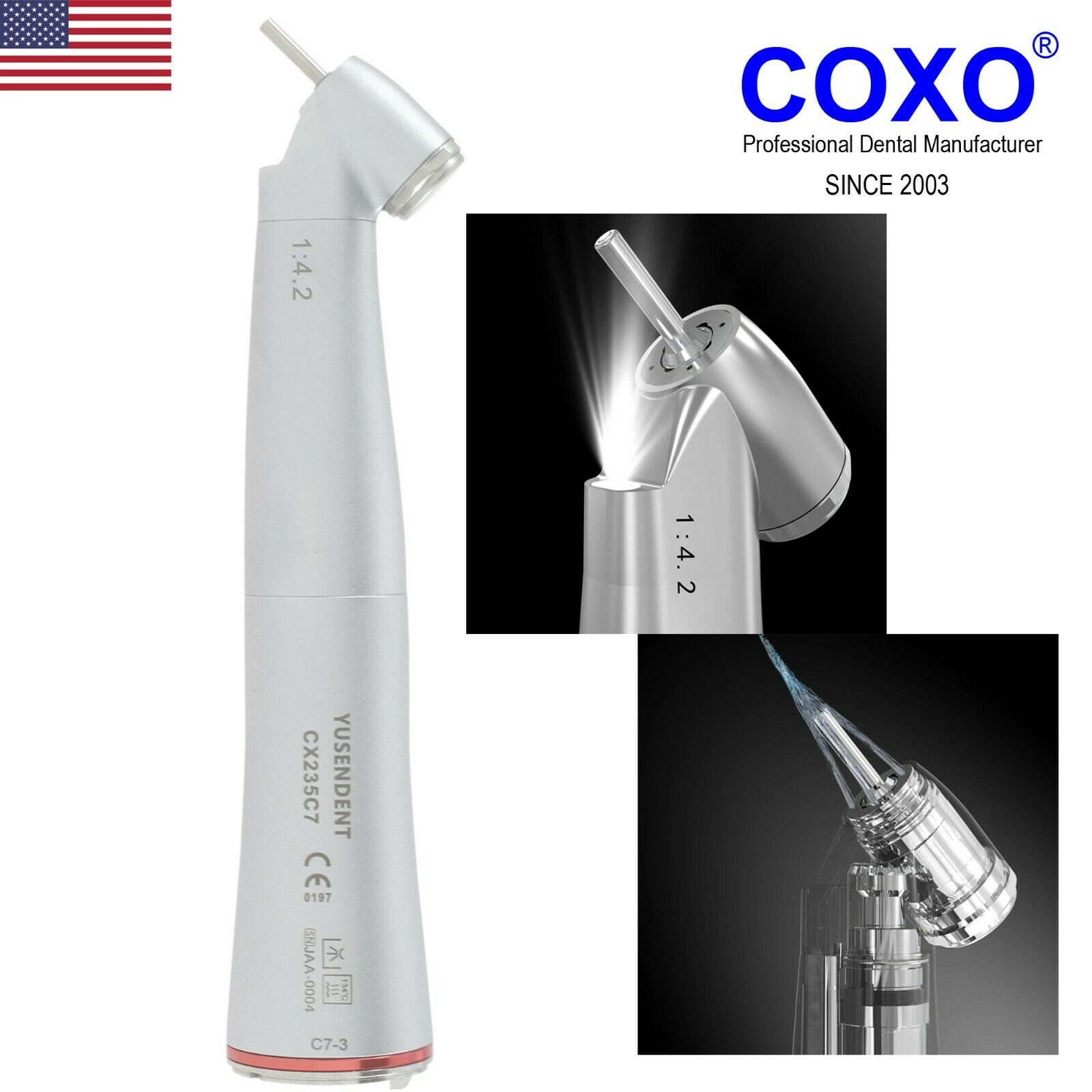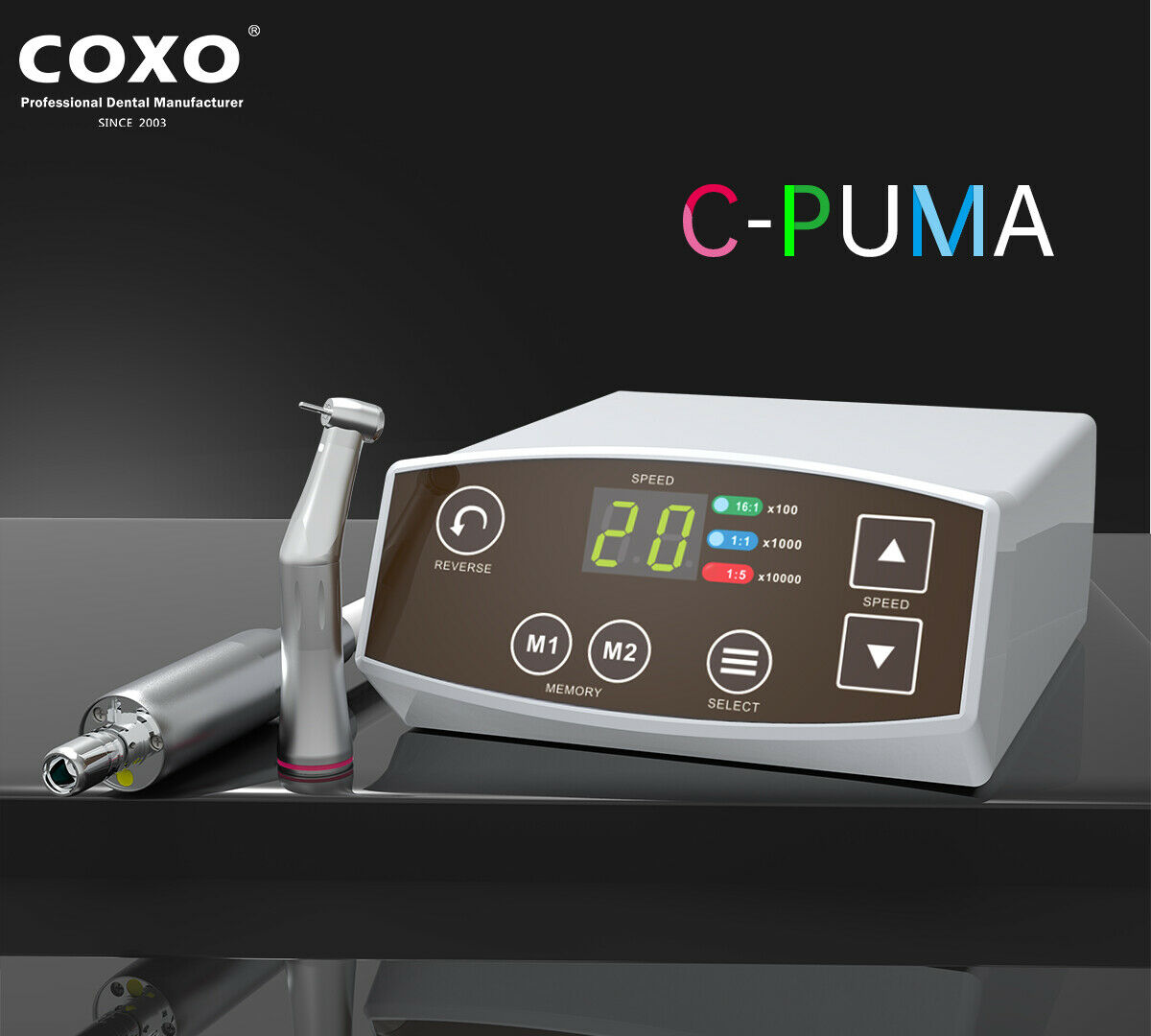 Features
Availability Date:
2022-07-06T12:00+0000
Reviews