MAX-RAY Portable X-ray White - X-RAY PORTABLE #DX-3000W
Full range of Dental Supplies with incredible prices and outstanding customer service...
Please sign in so that we can notify you about a reply
Sellers of this product
Description
MAX-RAY Portable X-ray White
Portable X Ray 
 Mfg # 
DX-3000W
Features:
A lightweight, truly Portable, FDA-approved alternative to traditional X-ray machines. Weighs only 4.4 lbs. Takes more than 300 X-ray shots on a single battery charge. MAXRAY also uses oil-cooled tube technology (just like a traditional wall mount) for faster recovery and more frequent X-ray shots while extending the life of the tube.
* 2 year warranty on the Cocoon and MAXRAY. Manufacture defects only. 
WE ALSO OFFER  BX-WAR  an extended warranty. Good for 5 years. Provides a loaner unit if repair service is needed.

* LIGHTWEIGHT: Weighs only 4.4 pounds
* SAFE – ZERO leakage design makes MAXRAY safe.
* RECHARGEABLE – One charge….takes hundreds of X-Rays.
* ECONOMICAL – One MAXRAY unit does the work of multiple X-Rays systems. Improves your workflow in your office, its fast and convenient.
* PRACTICAL – Handheld design allows operator to stay with the patient during procedure…It's like taking a picture!
* SIMPLE – No big bulky arms, backing plates for walls, special cabinets or costly electrical hookups.
* VERSATILE – The MAXRAY Portable Handheld Unit can go with you anywhere. From one office to another!
Includes:
1 MAXRAY Handheld X-Ray,
2 Batteries
1 Battery Charger
1 Carrying Case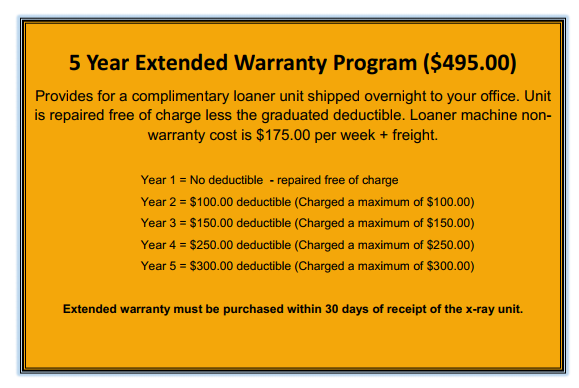 Features
Availability Date:
2022-07-02T12:00+0000
Attachments