QUATRO - AF1000P-D Fresh-air Purifier (for Airborne Dust) - Af1000 infresh-air-in-air Purifier - #AF1000P-D
Full range of Dental Supplies with incredible prices and outstanding customer service...
Please sign in so that we can notify you about a reply
Sellers of this product
Description
QUATRO - Fresh-Air Purifier (for Airborne Dust)
Dust Collector Air Purifier
# 122373 -Mfg # AF1000P-D
AF1000 Air Purifier (for airborne dust)
For Dust Producing Lab Areas up to 400 ft²
Contains long lasting industrial grade filters for elevated dust levels
Item #: AF1000P-D
Dimensions (HxWxL): 52x16x22 in (132x41x56 cm) · Shipping Weight: 216 lb (98 kg)
Electrical: 100-120 V, 60 Hz, 2 A · Sound Level: 52-56 dB(A)
Filters: F007-BX (8/box), F015 (1/box), F006 (1/box)
Provides protection for spaces up to 400 ft²
3-stage Air filtration system designed to efficiently reduce airborne particles
Affordable low maintenance general purpose Air purifier for single rooms
Powerful, compact and very portable
Brushless motor designed for continuous duty
True Deep-bed HEPA Filter, ensures 99.97% efficiency on the capture of airborne particles
Reduce heating and Air conditioning energy/maintenance costs
Reduce general cleaning and maintenance costs
Also included: Casters for mobility (#AA037), (3) Spare Dust Filters
Optional: Odor Filter upgrade, replace F015 with #F003-GPC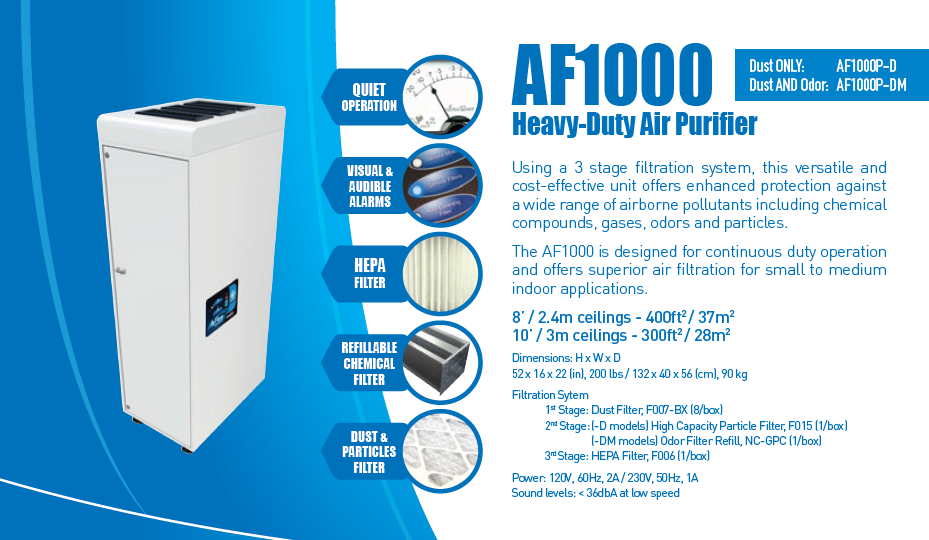 Recirculation HEPA Air Purifier:
* Collects particles down to 0.3 sub-micron levels
* Filters 100% of all room Air every 4 minutes
* Removes all odors and airborne dust particles
* Three models available for different size areas
* AF400 for under 300 sq.ft.(<27m2)
* AF1000 for up to approx. 500-600 sq.ft .(<56m2 )
* AF2000 for up to approx. 1000-1200 sq.ft. .(<111m2 )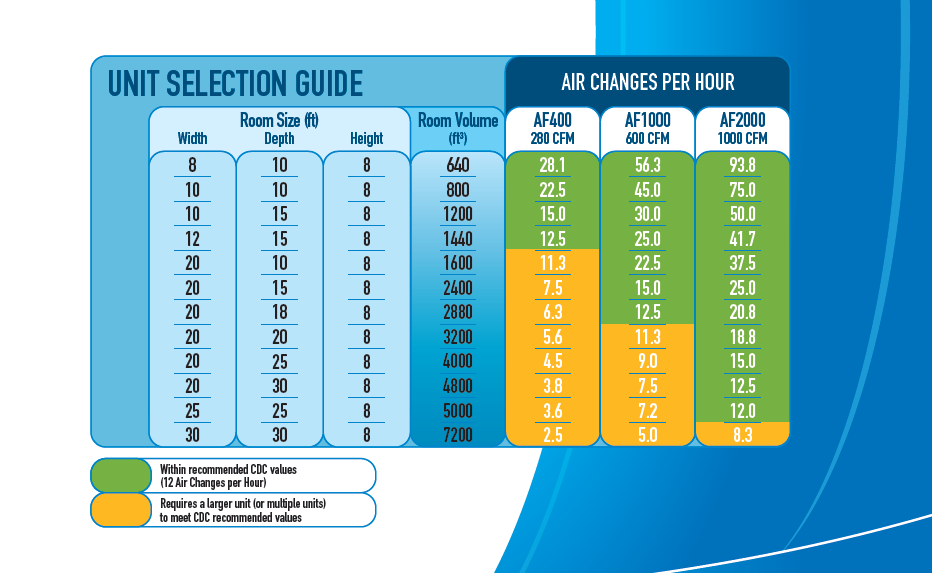 What is airborne dust? Airborne dust is particle, or Particulate Matter (PM), pollution, and is one of the most significant Air pollutants in Pima County. PM is made up of tiny solid particles or liquid droplets (a fraction of the thickness of a human hair) that float in the Air we breathe.
Features